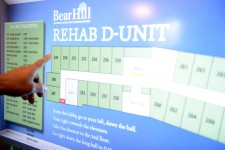 Mvix has been selected by Bear Hill Rehabilitation & Nursing Center to power their interactive digital signage kiosk
STERLING, Va., January 17, 2019 (Newswire.com) - Mvix has been selected by Bear Hill Rehabilitation & Nursing Center, an elite long-term nursing care facility in the Greater Boston-metro region, to power an interactive digital signage kiosk.
Ranked by U.S. News & World Report as one of the top nursing facilities in the country, Bear Hill Rehabilitation and Nursing Center has branded itself as a community of caring individuals eager to welcome new residents and their families.
The interactive digital signage display was a result of collaboration between Mvix and Karen Ancas Design. The touch-screen display has taken on traditional receptionist duties, such as directing guests via maps and directories, and has become the central source of several pieces of important information.
The Challenge
The administrative staff at Bear Hill realized the need to refine the center's branding, bring modernity to the older building and centralize pertinent information.
They needed a solution that would:
be content-rich with features such as event calendars
guide visitors with maps of the facility
provide interactive directories of residents and staff
streamline all communications into one simple and attractive channel
These functions would allow the sign to replace the traditional marketing literature found in the lobby, such as brochures and flyers.
The Solution
Bear Hill and Karen Ancas Design selected Mvix digital signage software to power the interactive digital signage kiosk.
Working directly with David Flink, the Mvix project manager, Karen curated interactive content that was functional and attractive.
The content included wayfinding maps, staff directories, activity calendars, menus, photos and animated announcements.
The Mvix platform offered:
content-rich software - Karen was able to import her own designs directly into the software and the data integrations addressed many of the clients' needs
implementation assistance - "I was unfamiliar with the technology, but we got lots of hand-holding for the touch-screen arrangement," said Karen, regarding the Mvix project manager's consultations
remote management - the administrative staff can schedule and update content from anywhere
The Results
Bear Hill has noted:
visitors and residents are able to find the information they need faster and without the assistance of a receptionist
the kiosk centralized several pieces of important content, rather than having it split across several mediums and physical locations
switching to digital communications has saved valuable resources
the administrative staff can address other duties critical to their jobs
"The touch-screen display brings modernity to an otherwise older-looking building and it makes people feel good about coming in," said Jessie Maiuri of Bear Hill. "They bring a freshness to our lobby and is a perfect illustration of how digital signage can augment reception spaces."
"We thoroughly enjoyed working with Karen and Bear Hill to help create a solution that matched Bear Hill's unique vision," said David Flink, project manager at Mvix. "You can tell that this was really a passion project for everyone involved and it shows in the success seen by the Bear Hill staff."
To read the detailed case study, download a free copy here.
About Mvix
Mvix is a leading provider of content-rich digital signage software and solutions. To date, the Mvix platform powers over 50,000 active screens for clients including Virginia Tech, NASA, Sodexo, Discovery Channel and the University of Washington. The use cases include employee communication, wayfinding, emergency messaging and customer communications.
For more information, call 703.382.1739 or visit www.mvixdigitalsignage.com.
Source: Mvix
Share: