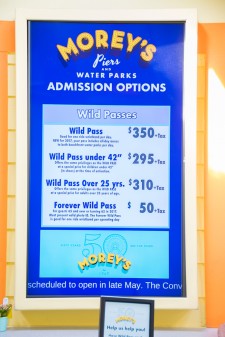 STERLING, Va., May 31, 2018 (Newswire.com) - Morey's Piers, Beachfront Water Parks and Hotels, a six-block beachfront amusement park featuring more than 100 rides and attractions on the Jersey Shore, has implemented a digital signage network of more than 30 networked screens across its ticket booths and restaurant facilities.
Morey's Piers has been family owned and operated since 1969 and serves an estimated five million guests annually. Voted the 2015 best seaside amusement park in the world by Amusement Today and No. 1 Best Beach Boardwalk by Family Vacation Critic in 2015, the amusement park spans over 18 acres and includes three amusement piers and two beachfront water parks.
The digital signs are increasing incremental revenue while decreasing expenses. It's really become a significant revenue center for us.

Tim Samson, Director of Marketing at Morey's Piers
The Challenge
The sales staff at Morey's Piers often found that they spent more time explaining the various pricing options to visitors than they were actually selling tickets. Therefore, they required a simple and effective way to convey the best deals for the customers.
As Morey's Piers began rolling out more dining options throughout the park, they wanted to have a display show when popular food and beverage items were out of stock or when new items were added to the menu.
Essentially, the display network would require an overarching content management system that could easily scale to the needs of the amusement park in real time.
The Solution
Morey's Piers installed a network of 27 screens and seven video walls within their ticket booths and restaurant facilities. The Mvix platform offered:
remote management - the director of marketing manages the pricing and advertising displays from the main office
advanced scheduling - ticket packages and special promotions are scheduled to change depending on the time of day, day of the week and promotional events
custom content - each of the dining options has a unique menu board template and targeted ads can be pushed out at a moment's notice across all displays
The Results
The Morey's Piers marketing team has recorded:
faster transaction times (reduced by 50 percent) with increased ticket sales as customers can easily find the best deals on the displays
targeted advertisements on the signs led to more food and beverage sales
traditional marketing materials have been phased out in favor of the digital displays
"The digital signs are increasing incremental revenue while decreasing expenses," said Tim Samson, director of marketing at Morey's Piers. "It's really become a significant revenue center for us."
Morey's Piers was also able to test marketing strategies. As they began to introduce more adult-centric dining options like the Bier Garden, the marketing team decided to test a specialized marketing campaign specifically for happy hour specials. Using only short, scheduled messages on the digital signage network indicating happy hour specials, the team was able to double sales at the bar locations.
"It's great to have a client like Morey's Piers that truly understands and uses our platform to its full potential," said Mike Kilian, senior director of business development at Mvix. "We're very proud of the success they've had with our solution."
To read the detailed case study, download a free copy here.
About Mvix
Mvix is a leading provider of content-rich digital signage software and solutions. To date, the Mvix platform powers over 50,000 active screens for clients including Virginia Tech, NASA, Sodexo, Discovery Channel and the University of Washington. The use cases include employee communication, wayfinding, emergency messaging and customer communications.

For more information, call 703.382.1739 or visit www.mvixdigitalsignage.com.
Source: Mvix
Share: