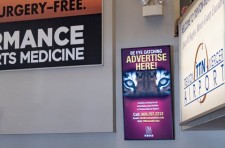 Trenton-Mercer Airport implemented Mvix Digital Signage software through Creative Marketing Alliance (CMA) to display flight information (FIDS) and hyper-target travelers and consumers.
STERLING, Va., May 21, 2019 (Newswire.com) - ​​​​​​Mvix Implements Digital Signage Software at Trenton-Mercer Airport to Display Flight Information and Hyper-Target Travelers
Mvix, a leading provider of content-rich digital signage software and solutions, announced today the implementation of its digital signage software at the Trenton-Mercer Airport. It displays flight information (FIDS), in addition to hyper-targeting consumer and business travelers. Trenton-Mercer Airport has been providing a convenient, safe mode of transit to the Mercer County Region for more than 80 years.
Mvix is executing its software through CMA, a full-service communications, marketing and association management firm, to manage the dynamically displayed flights real-time status. Also, to manage and monitor content remotely.
CMA was awarded the Trenton-Mercer Airport contract, which includes an outreach program targeting advertisers throughout Mercer County. It also comprises advertising in the airport lobby, at check-in, gate area, baggage claim, shuttle bus space and light poles. Trenton-Mercer Airport's new flight information display system and additional digital advertising display boards are being used to promote community events in the area.
"The remote content management solution enhanced CMA's efficiency as they did not have to be physically present at the airport in order to monitor and update the displays." -Mike Kilian, Senior Director of Business Development at Mvix​
The central focus of this project was to display dynamic flight arrivals and departure information of various commercial airlines serving Trenton-Mercer Airport. As part of the display configuration, arrivals and departure information is updated in real-time along with cancellations, delays, gate numbers and more. Mvix Digital Signage solution provided "ready-to-use" FIDS layouts integrated with real-time flight information APIs.
As a part of the project, CMA required the ability to auto-program the displays with rule-based scheduling and "set-it-and-forget-it" programming to reduce workload. With the advanced content scheduling feature of Mvix Digital Signage platform, CMA was able to schedule content for weeks and months in advance. This enabled Trenton-Mercer Airport to show hyper-targeted, customized ads for different groups of audiences at different parts of the airport.
"The system has worked very well for us and is also scalable. As the airport grows, the system grows because there is no limit in space. We have even started conversations about partnering with the Princeton-Mercer Convention & Visitors Bureau, further adding value and economic development to the local area." - Christian Amato, Chief Business Development Officer & COO at CMA
Streamlined content management was another important requirement for CMA. They needed the ability to easily upload, update and manage ads in addition to news feeds, scrolling text, weather, time & date, and even social media. Mvix content-rich library includes over 200 content apps and data integrations, giving CMA a variety of content apps to choose from.
As a result of the digital signage installation, Trenton-Mercer Airport saw an increase in viewer attention. They got more eyeballs and the passengers were engaging with the ads more.
CMA was also able to recruit more advertisers as they now had more digital real estate.
"We enjoyed working with CMA to install FIDS at Trenton-Mercer Airport. This installation was a crucial step in improving the airport's communication. The airport can now easily communicate promotions and weather updates along with updated flight information. FIDS is a great step in the right direction for Trenton- Mercer Airport." - Mike Kilian, Senior Director of Business Development at Mvix​
Airport flow also improved as a result of displaying flight info in strategic areas. Passengers are better informed about their flights and can find their way around the airport easily.
Overall, digital signage became more cost-effective compared to static ads, eliminating printing.
Learn more about CMA at CMAsolutions.com and follow @CMAresults on LinkedIn, Twitter, Facebook, Instagram and YouTube.
Mvix will showcase their award-winning digital signage software on June 12-14 at InfoComm 2019 in Orlando at booth #255.
About Mvix
Mvix is a leading provider of content-rich digital signage software and solutions. To date, their platform powers over 50,000 active screens for clients including Virginia Tech, NASA, Sodexo, Discovery Channel, Crowne Plaza and the University of Washington. The use cases include employee communication, wayfinding, emergency messaging and customer communications.
Source: Mvix
Share: