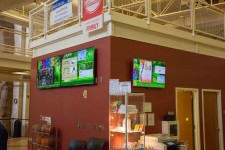 STERLING, Va., February 22, 2018 (Newswire.com) - Mvix has been selected by Loudoun County Parks, Recreation & Community Services (PRCS) to power its digital signage network across 11 locations for visitor and staff communications.
The Loudoun County PRCS mission is to provide outstanding recreational and leisure opportunities, outcome-focused community services and stewardship of the county's natural resources to promote quality of life for Loudoun's 380,000 residents, the third-most populous county in Virginia.
Their 10 community centers offer a combined 300,000 square feet of space which include baseball fields, aquatic centers, bike trails, classrooms and performance art spaces.
The Challenge
The PRCS team already had high-quality content, but it was only available on the county website, which was not helpful for on-site communications. To make that information available on-site they needed a new communications platform that would:
share multimedia content like text, video, photos, RSS feeds, etc.
provide remote access so staff at the individual community centers and managers at the administrative office could publish or edit content instantly
easy-to-use software with a low learning curve so the technology could be implemented and adopted quickly
The Solution
The county implemented a video wall and networked displays powered by Mvix in 10 community centers and the main administrative office. They display information about available community programs and activities, branded Loudoun County YouTube videos, pictures from the county parks and other supplemental information such as weather, time and local emergency alerts.
The Mvix platform also offered advanced scheduling and multi-user access to enable individual locations to post their own content.
"We were really excited to work with a client who's right in our own backyard," said Mike Kilian, senior director of business development at Mvix. "Because it was a local project, we could see the immediate impact our solutions were having in the community in a way we don't often get to experience with national and international clients."
The Results
Since the implementation, the PRCS managers have noticed:
increased engagement from residents regarding programs and activities they see featured on the displays
improved satisfaction scores and interactions between PRCS staff members and visitors to the facilities
"Our mission statement is 'We create community.' Digital signage empowers us to accomplish this by allowing us to reach out to the community with different services in a visually appealing and easy to understand way," said Jon Mattia, manager at the Douglass Community Center in Loudoun County.
The success of the Loudoun County PRCS implementation has driven implementation in other county services. The PRCS team is cross-promoting content with the Loudoun County Libraries, and the local fire department has shown interest in using the signs at the recreation centers to display alert messages.
"A similar signage system, connected with the other local services, would allow for a common place to interface community information across the county," said Mattia. "We know the great potential of digital signage, and we're still exploring all of the possibilities available to us."
To read the detailed case study, download your free copy here. 
About Mvix
At Mvix, our love for technology drives who we are and what we do. For over a decade, we have been a leading provider of content-rich digital signage software and solutions that connect brands with people.
To date, our platform powers over 50,000 active screens for clients including Virginia Tech, NASA, Sodexo, Discovery Channel, Nike and the University of Washington in a variety of applications that include employee communication, wayfinding, emergency messaging and customer communications.
Learn more about Mvix at www.mvixdigitalsignage.com or give us a call at 703.382.1739.
Source: Mvix
Share: